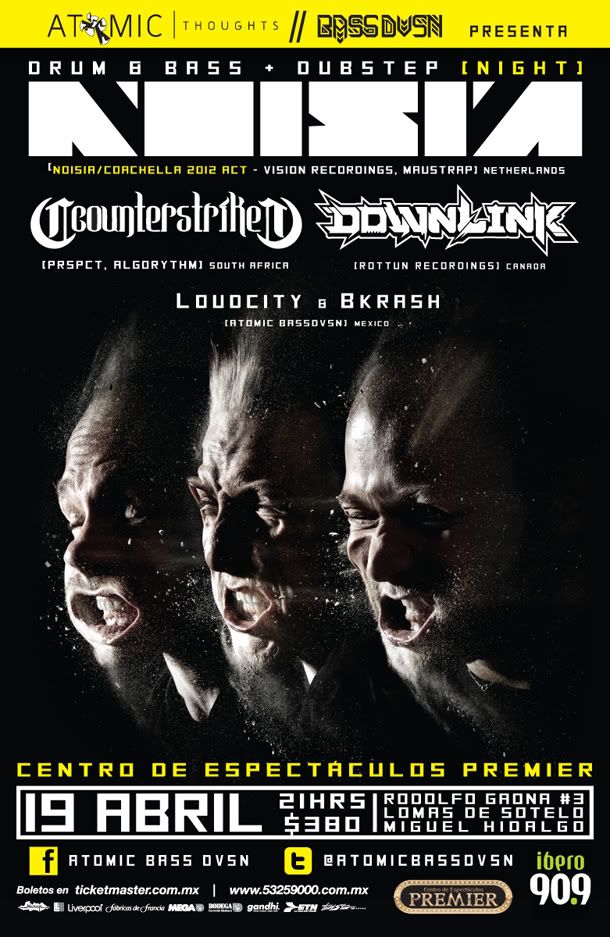 NOISIA (NL)
(Que toma su nombre de la palabra VISION de forma invertida) comandado por Nik Roos, Thijs de Vlieger y Martijn van Sonderen. Trio holandés de excelentes productores/DJs que fueron influenciados por un ecléctica gama de artistas y géneros de la musica moderna, que abarca desde THE PRODIGY hasta JAMES BROWN, pasando por MILES DAVIS, KONFLICT, TIPPER, FATBOY SLIM. A partir del 2003 comenzaron a producir una de las bandas mas particulares de la música electrónica global, experimentando con géneros que van del DRUM & BASS, DUBSTEP, NEUROFUNK, JUNGLE, IDM, hasta el HOUSE, BREAKBEAT, FUTURE HOUSE, HIP HOP, y otros, esa banda es NOISIA.
NOISIA ha producido ya más de 38 EPs + 1 álbum / mas de 55 remixes oficiales a artistas de talla internacional como SKRILLEX, THE PRODIGY, DEADMAU5, MOBY, KATIE PERRY, ROBBIE WILLIAMS, VISAGE, PENDULUM, HADOUKEN, ICICLE, LABRINTH & TINIE TEMPA, y otros. / Su track MACHINE GUN (16bit rmx) es featured en TRANSFORMERS III Soundtrack / Ha colaborado y producido con artistas como AMON TOBIN, FOREIGN BEGGARS, KRS ONE, ED RUSH, SPOR, THE UPBEATS, DOM & ROLAND, FEED ME, PHACE, BLACK SUN EMPIRE / le produjeron 3 tracks completos a KORN para su mas reciente disco / han tocado en los más importantes festivales de música electrónica en el mundo, este año tocarán en COACHELLA 2012 / Hoy en dia se encuentran como uno de los actos más activos de la disquera de DEADMAU5 "Mau5trap", y sin duda es una de las bandas electrónicas más importantes a nivel mundial.
DOWNLINK (CA) (ROTTUN RECORDS)
Desde hace mas de 5 años, DOWNLINK ha consagrado su nombre, dentro del genero Dubstep en todo el mundo. Sus primeros dj sets nos muestran sus raíces de Jungle y Drum & Bass; géneros con los cuales DOWNLINK se da a conocer en todo Canada. En 2007 comienza su carrera de productor, y encuentra el sello perfecto para su nueva producción en ROTTUN RECORDINGS, sello discográfico creado y sostenido por el gigante de Dubstep EXCISION, con el cual DOWNLINK ha colaborado en más de 10 releases oficiales. Para 2009 ROTTUN RECORDINGS es liderato por tres de los mejores actos de dubstep en todo el mundo; DOWNLINK, DATSIK, EXCISION, que mes con mes, release tras release, llegan a lo mas alto de los charts a nivel mundial incluyendo iTunes Chart, Beatport, JunoDownload, Billboard. Su tour mas grande fue en 2011 junto con Excision; Subsonic Tour, tocando en mas de 20 estados de USA, juntando mas de 100,000 tickets vendidos, ademas de tocar durante el mismo año con otros artistas como BORGORE, SKRILLEX, DATSIK, ZEDS DEAD, KOAN SOUND, FLUX PAVILION, DOCTOR P, 12th PLANET, DIESELBOY, SPL, y muchos mas. Su más reciente colaboración fue con KORN produciendo 3 tracks para ellos. Actualmente se encuentra de gira con KORN, pero el 19 de abril pisa tierras mexicanas.
COUNTERSTRIKE (SA) (Algorythm, Dim Mak, Rottun, PRSPCT)
Son el dúo sudafricano de Justin Schlotemeyer, y Eaton Corus, que han grabado ya más de 50 releases, incluyendo 4 albumes. Es uno de los actos más característicos del Drum & Bass del mundo por su peculiar sonido, en el que mezclan distintos estilos que van desde el Death Metal, hasta el New Rave, Speed Trance y Hardcore Industrial.
Ya han tocado en más de 25 paises, y su estilo de Drum & Bass / Dubstep es de los más vigentes en Europa en este momento / Ha estado en las top lists de Dubstep & DnB de BEATPORT / Han hecho bootlegs, colaboraciones, y remixes oficiales a THE PANACEA, MUSTARD PIMP & ALEC EMPIRE, SLAYER, BLACK SUN EMPIRE, THE OUTSIDE AGENCY, CURRENT VALUE, PRESENCE KNOWN & VISTA, BALKANSKY, SPL, LIMEWAX, DONNY, FORBIDDEN SOCIETY, I:GOR, y otros / Han sido featured en sellos discográficos como DIM MAK de STEVE AOKI, ROTTUN de EXCISION, PRSPCT de DJ TRASHER, HUMAN de DIESELBOY, MOVING SHADOW de ROB PLAYFORD.
BOLETOS A LA VENTA en web, y en taquillas del lugar.
Ticket Master
19 de Abril @ Centro de espectáculos PREMIER
Costo del evento: $380 gral. 9 pm a 3 am
+18 solo con IFE.