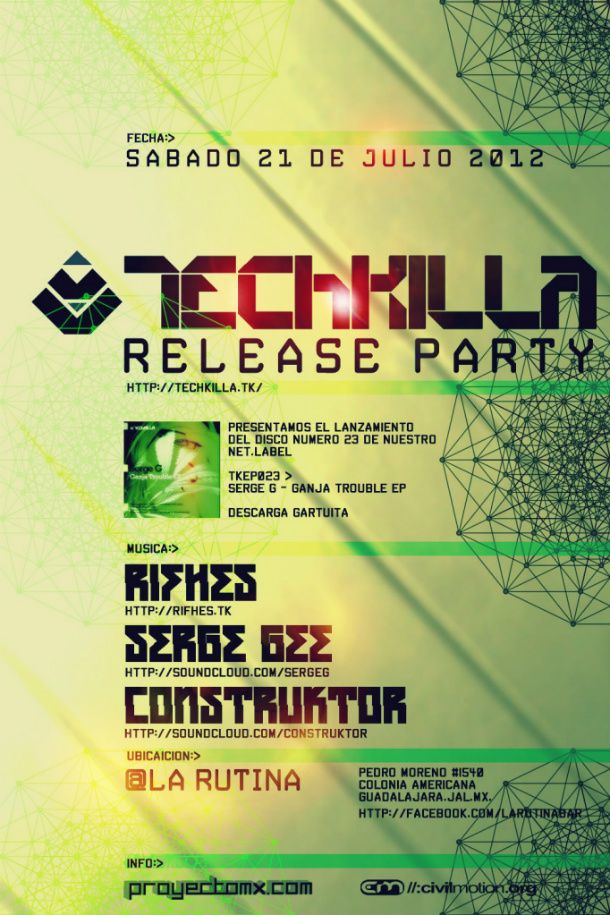 TECHKILLA Recordings acutalmente se encuentra involucrado en una serie de eventos en la ciudad de Guadalajara, Jalisco, dedicados a difundir el bassmusic (musica electronica alternativa y experimental: dubstep, drum and bass, breakbeat) a lo cual hemos denominado "The Bass Agenda".
Este Sabado 21 TECHKILLA Recordings presentamos el lanzamiento del disco numero 23 de nuestro net.label
este album corre a cargo del productor y DJ Serge G y se titula "Ganja Trouble".
Serge G es uno de los mejores productores mexicanos de drum and bass y liquid funk, con mas de 7 años de experiencia como DJ y forjado en la escena jungle de la capital ahora reside en Guadalajara y se integra a los colectivos, Bashment, GDL Bass Crew y TECHKILLA.
En este lanzamiento cuenta con 2 temas originales y un remix a el excelente proyecto tapatio San Juan Proyect.