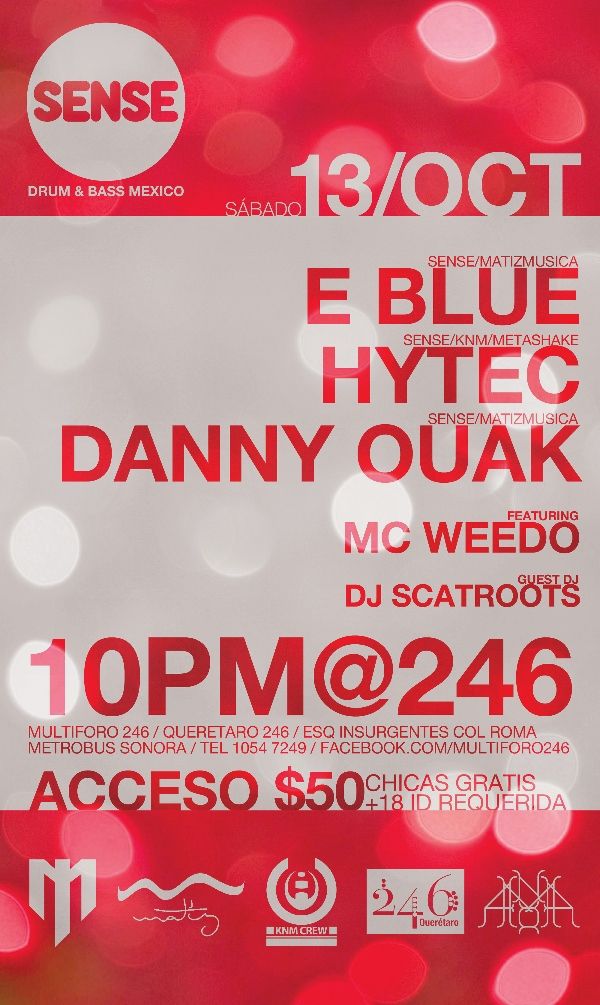 Conjunto de DJs (Hytec, Eblue,Danny Ouak y Scj) dedicados al Drum & Bass. Creamos Sense para reunirnos y disfrutar de estilos como el Soulful, Liquid Funk y Jungle. Esperen podcasts, mixes promocionales, reseñas, entrevistas y por supuesto, buena fiesta.

Esta vez la cita se dara en Multiforo 246 ubicado en Queretaro #246 esquina con insurgentes colonia roma, cerca del metrobus sonora.

El line up estará a cargo del crew de Sense Drum and bass Mexico.

Eblue - Sense Drum and bass/Matiz música

Hytec - Sense Drum and bass/Konami Crew/Metashake Records.

DannyOuak - Sense Drum and bass/Matiz música

MC WEE DOW.

Guest Dj - SCATROOTS.

INICIAMOS A LAS 22:00 PM Y TERMINAMOS A LAS 2:30 AM

COVER: $ 50 PESOS.

CHICAS GRATIS!!!.